04

Sep 2015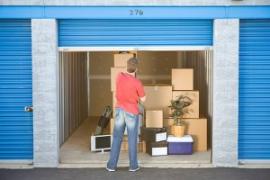 Decorating your home or having building work done there is performed so that you can revitalise your home. It enables you to fix problems, replace old features, add new things to your abode, make it fit in line with your tastes and lifestyles, and much more. It can be a lot of work getting all of this done but in the end, you will have a new home to enjoy.
Taking care of your home and belongings during this period can be tough. As items are carried through the building, goods can be dented,
scratched and knocked over. Dust, dirt and cement can stain various goods. Paint can leak, drip and spill onto your belongings. Your goods can also just get in the way as you have to move them back and forth to work in a certain area. This can be inconvenient in a number of ways so it is worth considering self storage for your building and decorating.
Having access to your own storage room means that you will have a safe spot to place your goods. This means they can be out of the way while you are working on your abode and so won't be at risk. You can keep
things safe and make room for yourself, making the process much simpler. You can leave as many goods as you need in your storage unit so you could place everything there while you are working on the entire abode or you could just place the items from the area you are working in.
A top storage facility can provide everything you need. The storage containers will be available in various sizes and sorts so that you can find one suitable for you. You will be able to hire it for as long as you need and visit it whenever you like. This means at any time so you can retrieve some or all of your goods, deposit more, or whatever. You will be able to access features such as electricity, access ramps, lighting and more, so you can use your storage locker
as you require.
Secure storage is every important and so you should know what to look for. The self storage unit you hire should be made to resist rain, ice, snow, wind and high temperatures. It should be locked up tightly and only you should have a key to the unit. The storage depot should be patrolled by professional security guards and there should be everything from high fences to security cameras in place.
Your storage units can be used in a number of ways to make your life simpler and knowing how to best arrange things is rampant. Placing large goods at the back and smaller items towards the front will make it easier to retrieve things. It can be more useful to put objects you will need sooner at the entrance so that you
can remove them easily. Shelving, cabinets, cupboards, etc will make it easy to sort small items and keep them safe. Using tarp, bubble wrap, cloth can help keep things warm, clean and dry.
When looking for professional storage services you should begin online. A search can bring up various reviews, websites and listings that will enable you to find firms in your local area. Look at all the information you can to discover which firm is best for you. Calling them up or visiting their depot in person will help you learn everything you need. Requesting a free quote will ensure a good deal.
Storage solutions can greatly simplify the building and decorating you do in your home, so consider it for your domestic work.